Marks and Spencer 'consider options' over Rhyl closure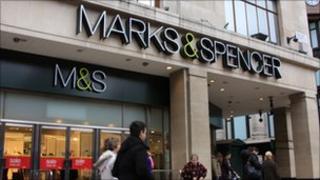 Politicians and civic leaders have met Marks and Spencer in Westminster in a bid to stop the retailer shutting its store in a seaside resort.
Denbighshire Council said moving out of Rhyl would have a "major adverse impact on the town centre".
M&S, which plans to open a new store in nearby Prestatyn, said it would "consider all options" but was still looking at closure.
Rhyl was last week named as containing the most deprived ward in Wales.
The store has been in the seaside resort since 1932 but plans to move out early next year.
M&S is planning to offer jobs at a new shop in Prestatyn, redundancy or deployment to Llandudno or Chester to its 55 workers.
Rhyl was last week named as containing the most deprived neighbourhood in Wales, despite efforts to regenerate the north Wales seaside town.
Vale of Clwyd MP Chris Ruane met representatives of the company, along with officials from the Welsh Government and Denbighshire council in Westminster on Tuesday.
He said M&S agreed to look again at its intention to close the shop in January before moving to a new site at Prestatyn four miles away in early 2013.
'Disappointed'
But the company turned down a plea to keep a small presence on Rhyl's high street.
Mr Ruane said he was "disappointed" that a small M&S would not continue in Rhyl in the short term but pleased the retailer had not dismissed an appeal for the store to continue to be open over the next 18 months until the Prestatyn store opened.
"I'm grateful for that consideration," he said. "I hope the response will be quick so shoppers, staff and the regeneration team will know exactly where we stand."
Bethan Jones, Denbighshire council's director of governance and efficiency, said: "Enhancing and improving the retail offer in Rhyl is key to the Rhyl Masterplan and the proposals by M&S would certainly have a major adverse impact on the town centre.
"We have lobbied officials today and explained the strength of feeling locally about their plans.
"Whilst officials have agreed to go away and consider various options, the council has pledged to continue working with the Welsh Government, Chris Ruane MP, Ann Jones AM and Coleg Llandrillo Cymru to protect the retail offer in the town centre and to encourage more companies to invest in the town."
An M&S spokesperson said: "As part of the consultation process we are meeting with local representatives and will consider all options.
"However at this stage it remains our plan to cease trading at Rhyl in early 2012 ahead of the new store opening in spring 2013."