Llanarmon villagers revamp and reopen old schoolroom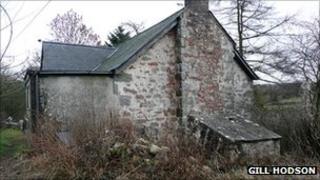 Denbighshire villagers who run their own pub have renovated and reopened their old hall as a community centre.
The Old Schoolroom in Llanarmon yn Ial became unusable when part of the roof fell in on the former church school.
Church warden George Flanagan and others collected £290,000 in grants and donations to pay for the work.
The building has now reopened, including the headmaster's house which has been closed for 50 years.
"There is a good community spirit in Llanarmon," said Mr Flanagan.
"Two years ago I said we had to do something as it was not being used."
So the villagers who helped re-open The Raven Inn, taking it in turns to pull pints and serve customers, set about raising funds.
Rooms reopened
Locals collected £20,000 by putting on charity events.
Grants have been awarded from various bodies including Denbighshire council and the ancient monuments agency Cadw, as the listed building dates to 1777.
The money paid for a renovation with new facilities and has seen the re-opening of the former headmaster's private quarters beneath the main school.
Mr Flanagan said the door to the headmaster's room was last opened about half a century ago and the renovation revealed beams and a "huge" inglenook fireplace.
Various local groups such as exercise classes and the sheepdog society are now using the building for regular events.
The building is also being made available for private hire.