'No concern' over food near Hanson Cement, Padeswood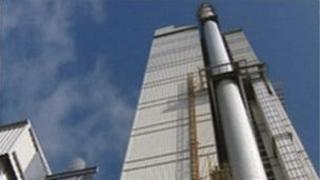 Health experts say samples taken near a Flintshire cement factory show no cause for concern associated with dioxins in locally-produced food.
As part of the assessment near Hanson Cement in Padeswood, milk, soil and vegetation samples were analysed from between 2004 and 2009.
The report is the latest in a series on the effects of the cement works on local public health.
In May a report found no evidence of consistent cancer clusters in the area.
That study was launched after some residents claimed there was an increase in some cancers in the area.
At the time Hanson said the results provided reassurance for neighbours and staff.
This time the investigation centres on food produced locally near the plant in Flintshire.
Hefin Davies, higher scientific officer for the Food Standards Agency, said the advice to anyone who grew their own food remained the same as a result of the study.
"People should thoroughly wash their hands after gardening.
"They should wash and peel all garden produce before eating or cooking it, and they should eat food from a variety of sources rather than from the same garden or allotment," he added.
Experts from Public Health Wales, Betsi Cadwaladr University Health Board, the Health Protection Agency, Environment Agency Wales, and the Food Standards Agency reported their findings with invited community representatives at Pen-y-Ffordd on Monday afternoon.
As part of the investigation a review of dioxin emissions was carried out by the Centre for Radiation Chemical and Environmental Hazards (Wales), which is part of the Health Protection Agency7 (HPA).
It showed that emissions of dioxins from the Hanson Cement plant have, in general, fallen between 2000 and 2009.
This is in line with a UK-wide decline in dioxin emissions since 1990, says the report.
It shows, however, that Hanson Cement was the largest single emitter of dioxins in Flintshire and the sixth largest in Wales.
"The measured emissions would not result in a dose [of dioxins] that exceeds the tolerable daily intake," said Professor David Russell, head of the Centre for Radiation Chemical and Environmental Hazards (Wales).
Prof Russell said the "tolerable daily intake" was an international measurement used by scientists.
He said there were a number of "in-built safety factors" in the measurement which made it "very conservative and safe".
"Based on the emissions from Hanson Cement at Padeswood, there is no evidence that the tolerable daily intake level has been breached," he said.
"Even during 2004, when there were significantly elevated levels of dioxins emitted, our calculations indicate that the most exposed individual would not have received a dose which exceeded this tolerable daily intake.
"Since 2004, measured dioxin emissions from the cement plant have reduced dramatically," he added.
Ann Weedy, from Environment Agency Wales, said: "As regulators of Hanson Cement, we prevent, or where that is not possible minimise, the impact of the site on the local community and environment."
Further work still to be carried out includes a study of the health impacts of environmental factors such as noise and odour.
A review of occupational health associated with the cement plant is also being carried out by the Health and Safety Executive.