Inquiry after 200 tyres dumped on private land at Vivod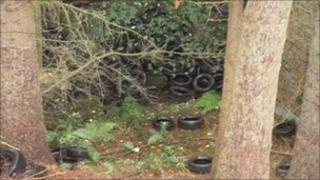 An investigation has been launched after 200 tyres were found dumped on private land in Denbighshire.
They were tipped at top of a steep bank from a public road in Vivod, near Llangollen, and the majority rolled to the bottom.
The Environment Agency said it believed the tyres were dumped on 4 or 5 September.
People with information are asked to contact the Environment Agency on 0800 80 70 60.
An agency spokesman said: "We are investigating to find those responsible, but are appealing if anyone has any information, or has seen something suspicious.
"The cost of disposal of a car tyre is in the region of £1.44 per tyre and if anyone offers to take waste tyres away for less they should be treated with suspicion.
"You should always ask for a waste carriers licence before passing your waste."