36 north Wales firefighters' jobs at risk over cuts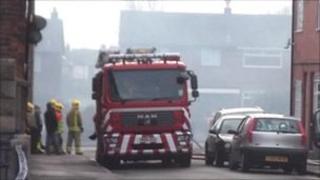 Up to 36 firefighter jobs may be lost as north Wales fire service faces a £2.4m budget cut.
Bosses say they have to claw back £800,000 a year over the next three years.
A statement said the "worst case scenario" could mean closing some stations in less busy areas with fire engines travelling further to calls.
But members of the fire authority's executive voted to avoid closures by changing the way fire crews are run.
They are recommending the full authority, which manages the fire service's budget, adopts a new system of crew rotas to be phased in over the next two years.
It would save money by leading to between 22 and 36 fewer posts, according to a report.
Councillor Sharon Frobisher, chair of North Wales Fire and Rescue Authority, said: "Public safety is paramount and our priority is to minimise any impact on the level of services provided by the fire and rescue service.
"These are difficult times but we are committed to delivering the highest possible emergency response standards and prevention programmes."
The report said the rescue service's budget has been frozen at £32m until March 2014, which means that in cash terms, savings of £2.4m (7.5%) are needed.
The meeting in St Asaph was told that the rising price of fuel was also having a big impact on finances.
Authority members voted unanimously to recommend budget savings be met by adopting a new system for organising shifts with the need for fewer firefighter posts while ensuring the correct number of firefighters are on appliances at all times.