Gresford service remembers Gleision Colliery victims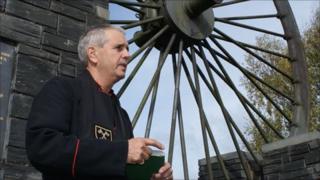 Four men who died in a Swansea Valley mine have been remembered on the 77th anniversary of one of Britain's worst colliery disasters.
Phillip Hill, 45, Garry Jenkins, 39, David Powell, 50, and Charles Breslin, 62, died after Gleision Colliery at Cilybebyll, near Pontardawe, flooded.
One week on, they were remembered on the anniversary of the disaster at Gresford, Wrexham.
On 22 September, 1934, 266 men died in an explosion at the mine.
A service is held annually at a memorial wheel in Gresford, where about 40 people gathered on Thursday, seven days after the Gleision mine flooded.
Three miners escaped as water broke through a retaining wall. However, four remained trapped and their bodies were discovered the following day.
The Reverend Canon David Griffiths, who conducted the Gresford service, prayed for the four men and their families.
A former miner, whose great-grandfather died in a flooded mine in the 19th Century, Mr Griffiths said: "Perhaps we ought to say to our government, 'It's time we made sure every workplace is as safe as it's humanly possible to be.'
"We have lost four good brothers and we certainly remember them in our prayers this morning."
Among those paying their respects at the memorial was Ruby McBurney, 79, and her brothers William Henry Crump, 78, and Cyril Crump, 81.
They, along with another sister, lost their father - also called William Henry Crump - in the Gresford disaster.
Ms McBurney placed a card at the Gresford memorial with a sprig of lily of the valley and a message reading: "In memory of the south Wales miners".
Her brother, William, said: "They seemed to be very hard-working people.
"I feel very sorry for anyone who has to work hard like that and then for that to happen to them."
Mr Crump, who was eight months old when his father died at Gresford, himself went to work down the mine when he left the army in 1952.
However, his career there was short-lived.
He said: "There's a sign on one of the walls saying something like 'Behind this wall lies the 266 miners'.
"Of course, those men all died with their wages on them.
"There was one lad working with us who suggested we go and get the wages.
"I hit him and I got the sack.
"It was hard enough going down the pit in the first place, without having to put up with that."
Among those attending the Gresford service was Vic Tyler-Jones president of Llay Local History Society, who said a donation had been sent to the fund for relatives of the Gleision miners from the Llay Miners' Heritage Centre.
He added: "We had a meeting and one of our members said we should show our support and sympathy for the miners' families, especially as we are remembering this occasion today."