27 jobs in doubt as Wrexham's Total Fitness closes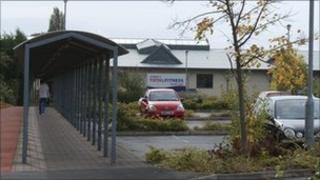 A gym has shut without notice in Wrexham, leaving 27 jobs in doubt.
Customers arriving at the branch of Total Fitness on Thursday were greeted by a closure notice.
The company blamed difficult trading conditions and unsuccessful negotiations with the landlord to lower the rent.
Customers are to be offered memberships at other branches, including Chester, or refunds. Staff can apply for jobs within the chain.
A statement from Total Fitness said: "We pursued numerous avenues to increase membership numbers at the club.
"Several attempts were also made to negotiate with the landlord to revise the rent and safeguard the future of the club.
"However, none of these efforts were successful, which meant that the running of the club was no longer financially viable.
'Trading well'
"We were therefore forced to vacate the premises with immediate effect."
Memberships rates on the national company's website says customers pay around £45 a month or £495 annually.
The statement explained that membership can be transferred to other branches of Total Fitness, with the nearest in Chester.
And those paying annually in advance will be contacted to arrange a refund.
The company said Wrexham staff can apply for jobs elsewhere within the business, adding that the closure has no impact on other Total Fitness gyms, "all of which are trading well".
Total Fitness was taken over last year by a venture capital firm after going into administration.
The network of gyms were founded by Rhyl-born billionaire Albert Gubay and sold in 2004 for £70m.