Metal thieves cause £35,000 damage at Bailey Hill lodge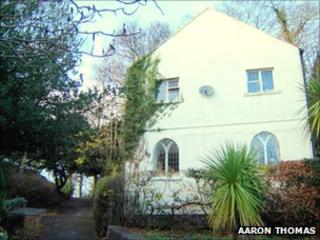 Thieves caused damage of up to £35,000 to the lodge at a historic Flintshire site by ripping up floors and ceilings to steal copper piping.
A report on the damage to the 100-year-old building at Bailey Hill, Mold, has been sent to the council which owns it.
It was vacated earlier this year by a custodian who looked after the site of Mold's Norman motte and bailey castle.
The authority said it had been making regular checks to try to protect the building.
Councils across Wales have been hit by soaring bills from metal thefts.
Campaigners had been calling for action to protect the building and hill from vandal attacks before the break-in.
Petition
Since the custodian left, the Friends of Bailey Hill group said the building has been broken into and vandalised.
Neal Cockerton from Flintshire council said discussions had taken place with Mold town council to help them take over the lease of the empty lodge.
"The county council has secured the building as thoroughly as possible and regularly inspects it," said Mr Cockerton, head of assets and transportation.
About 800 people signed a petition earlier this year calling on the authority to take action to prevent anti-social behaviour on the hill.
The damage to the lodge is estimated at between £20,000 and £35,000.
Meanwhile, a consultant has been hired to come up with proposals to develop Bailey Hill, including the lodge, to boost visitor numbers.