Wrexham eisteddfod site barn fire still damping down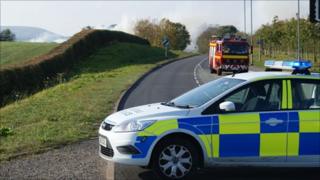 Fire fighters remain at the scene of a barn fire on the site of this year's National Eisteddfod at Wrexham.
At the height of the blaze on Monday afternoon six crews tackled the flames. There is currently one crew damping down at the scene.
Two brothers working on the farm at Ruthin Road suffered burns. One remains in hospital, the other was discharged.
The fire service said the large barn contained hay, fertilizer, farm machinery and tyres.
Police closed the road as smoke billowed across it. The fire service later scaled down its operation but remained on site overnight.
A North Wales Fire and Rescue Service spokeswoman said one of the injured brothers was discharged from hospital with superficial burns, but the other was transferred to Whiston Hospital, Merseyside, for assessment.
The 2011 National Eisteddfod was held in August on fields next to the A525.