Warning after Deeside bike death of Chasie McGowan, 17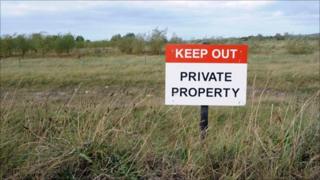 A police officer has warned people to stay away from land where a teenager died after reportedly falling off his motorcycle while off-roading.
Chasie McGowan, 17, died following an incident near Weighbridge Road, Deeside Industrial park, on Sunday.
Ch Insp Darren Wareing said the land was not safe for off-roading and vehicles would be seized.
Chasie is believed to be from the Wythenshawe area of Manchester, and an inquest has yet to be opened.
North Wales Police are investigating the death, and Chi Insp Wareing said: "Our advice to anyone is to stay off the land for their own safety.
"It is clearly not suitable for that kind of activity and no health and safety assessments have been carried out on it.
"We will be using our powers to target anyone caught committing an off-road motoring offence.
"We are able to seize vehicles involved in any such activities and that is what we will be doing.
"Our investigations into this incident are ongoing and we are also assisting the coroner."
The results of a post-mortem examination are awaited, and the case is currently with the Cheshire coroner, because Chasie was taken to hospital in Chester.
However, the case could be transferred back to the north east Wales coroner.