OAPs' road crashes prompt new driver assessment course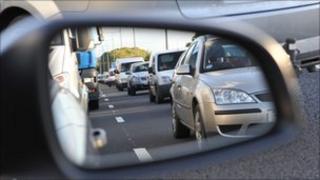 Motorists aged over 60 are being offered driver assessment courses in a bid to cut the number of road crashes in north Wales.
There were 233 collisions involving drivers over 65 in 2010 and 150 so far this year which police say is a "cause of concern".
North Wales Road Safety Group will run the course with the region's councils.
It is a two hour door-to-door assessment with an instructor. Drivers can use their own vehicle.
The assessment focuses on participants' driving habits and will suggest ways of improving their driving.
"This is about education and not enforcement," said Gareth Jones, North Wales Police's road safety manager.
'Bad habits'
"Traffic conditions today are a world apart from what many drivers have been trained to deal with when they first learned to drive."
People aged over 65s were involved in 13.1% of all collisions in north Wales in 2010, and 16.2% this year.
"Nobody's driving licence will be threatened as a result of attending this particular assessment," he said.
"To many older drivers, the ability to drive represents their independence."
Peter Davies, 71 from Rhuallt, Denbighshire, completed the assessment which he described as helpful.
He has been driving for more than 50 years and in many different countries, including Dubai, Cario, USA, Europe and South Africa,.
"After 53 years of driving you can pick up bad habits," he said.
"Since first passing my driving test there has been no professional advice given about the standard of my driving, until I sat this driving assessment and I can now say I am more confident about driving."
North Wales' six main councils' road safety departments hold application forms for assessments.
Completed forms are then sent to Flintshire County Council which is dealing with the administration.