Afon Clwyd Bridge demolition halted after bats found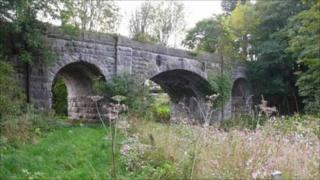 A colony of bats has helped halt the demolition of a Denbighshire bridge.
The Afon Clwyd Bridge at Pontruffudd near Ruthin had been earmarked for demolition, but the plans were stopped after the Clwyd Bat Group reported a colony there.
The bridge's owners, BRB (Residuary) Ltd will now need planning permission before they can knock it down.
The government-owned company confirmed it would apply to demolish the bridge.
Approval for demolition of the site had previously been given, and work to prepare the site had already started.
However, it was stopped when a member of the Clwyd Bat Group reported the presence of bats to Denbighshire council.
Contractor
A council spokeswoman said: "The bats issue, and planning permission, are related.
"The presence of a protected species is one of the reasons the owners would need planning permission."
The spokeswoman said that since approval was originally given, there had been a change in the law and the company would possibly need planning permission even without the presence of bats.
BRB (Residuary) Ltd took over the management of land and buildings after British rail was split up and sold off.
A spokesperson for the firm said it was originally given permission to demolish the Afon Clwyd Bridge by Denbighshire council, as a permitted development.
"However, subsequent changes to planning law now require us to seek full planning permission for the demolition.
"Pending that permission, demolition has been halted and the contractor is currently leaving the site.
"We will submit a planning application for demolition in due course."