Philip Delduca's two-year suspended sentence quashed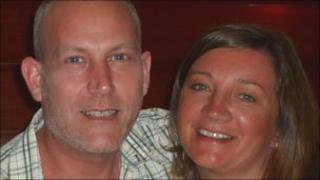 A motorist was wrongly given a suspended jail sentence for causing the death of a biker while adjusting his car heater, appeal judges have ruled.
Philip Delduca, 41, was driving a Vauxhall Zafira when he was involved in the collision on the A550 at Hawarden, Flintshire, in September last year.
Delduca, of Penyffordd, near Mold, Denbighshire, admitted causing Russell Green's death by careless driving.
But his two-year suspended sentence was quashed at the Court of Appeal.
Mr Green, 45, a father-of-four from Neston, Cheshire, suffered serious head injuries in the crash at Tinkersdale, and died at the scene.
Delduca admitted causing death by careless driving at a court hearing in April and was sentenced at Mold Crown Court in May.
He was handed a 30-week jail term, suspended for two years. He was also ordered to do 200 hours of unpaid work, banned from driving for 12 months and told to pay £1,200 costs.
But Lady Justice Rafferty, Mr Justice MacKay and Judge Nicholas Loraine-Smith, sitting at the Criminal Appeal Court in London, quashed the suspended sentence, saying it was "wrong in principle".
The court was told that, after adjusting his heater, Delduca looked up and realised too late that a car in front of Mr Green had stopped.
There was no suggestion Delduca was driving at an excessive speed or was driving inappropriately prior to the crash, the court heard.
Lady Justice Rafferty said: "It was wrong in principle for there to be sentence of imprisonment for this offence. There are no real aggravating factors and there was significant mitigation.
"We therefore quash that aspect of the sentence."
All the other parts of the sentence still stand.