Rave on Denbigh Moors blocked by North Wales Police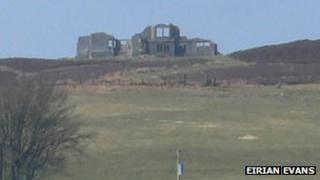 An unauthorised Halloween rave being organised on Denbigh Moors will not be allowed to go ahead, say North Wales Police.
Officers have threatened to stop and search cars in the area of the ruins of an old lodge, saying vehicles and equipment could be confiscated.
They said landowners have not given permission for the site to be used.
Council officials have imposed noise abatement orders so organisers could be prosecuted if the event is held.
Organisers describe the event as a private party, telling the Denbighshire Free Press they would clean up.
But the rave was being discussed on the Facebook website when police added a message to say they would take action if people attend and the event goes ahead.
Damage
The police message said: "We have consulted with the landowners and they have not provided anyone with permission for this event to take place.
"North Wales Police will take steps to stop this event."
The statement said the area is a protected Site of Special Scientific Interest (SSSI).
"The weather forecast is poor for Halloween weekend, and combined with a large number of persons on this land, this could severely damage this site," it said.