Wrexham 120ft brewery chimney sells on eBay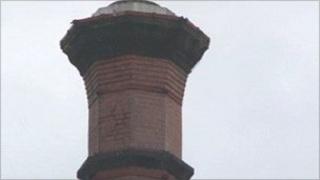 A Victorian brewery chimney in Wrexham town centre has been sold on eBay for £1,420.
The town's former MP and assembly member, John Marek, acquired the Grade II-listed landmark more than 20 years ago to save it from demolition.
But after failing to give it away through local appeals, he advertised it on the auction website pledging to give away the money raised to charity
The chimney stands 120ft (36m) high.
It is not yet known who has bought the chimney and if there are any plans for it.
Built on on Tuttle Street in 1894, the chimney was part of the former Soames brewery which later became part of Wrexham's Border Brewery.
Most famous
It closed in 1984 after a takeover by the Marstons group and the future of the chimney was then put into doubt before Dr Marek agreed to become its custodian.
Dr Marek said the chimney's structure is in a good state of repair with a survey showing no sign of problems. Insurance on the landmark costs him about £800 a year.
By the 1860s, Wrexham had 19 breweries.
The most famous became Wrexham Lager which was founded in 1882 by Otto Isler and Ivan Levinstein, two German immigrants.
They called it the Wrexham Lager Beer Company in 1881 and started brewing lager a year later.
It stopped being produced in the town a decade ago but has just been revived by a micro brewer.