Denbigh Moors rave 'cancelled' due to police threat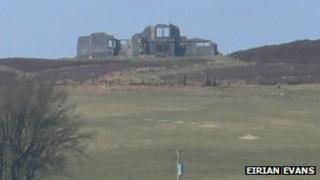 Organisers planning a rave on Denbigh Moors say the event has been cancelled.
It comes after police and council officials pledged to take legal action, saying it was unauthorised.
North Wales Police posted messages on an online social network site where Friday's event was being publicised to say it would stop the event.
Now, organisers say they have no option to abandon the event. It was being planned near the ruins of a shooting lodge.
Ch Insp Ian Jones said the force "takes very seriously and will not tolerate the setting up of illegal raves".
Council officials imposed noise abatement orders so organisers could be prosecuted if the event is held.
Ch Insp Jones said: "We have made it very clear in our media and Facebook messages that we will do all we can to stop events such as these taking place.
"We will not hesitate to confiscate equipment, direct people to leave the land they are trespassing on and seek to prosecute those involved."
He said it was believed that many of those intending to be at the event are aged under 18.
"I would point out to parents that illegal raves are potentially dangerous and cause untold damage and disruption," he added.
Last weekend officers threatened to stop and search cars in the area of the ruins of an old lodge, where the rave is expected to be held.
They said landowners have not given permission for the site to be used.
The police message on Facebook said: "We have consulted with the landowners and they have not provided anyone with permission for this event to take place.
"North Wales Police will take steps to stop this event."
The statement said the area is a protected Site of Special Scientific Interest (SSSI).
"The weather forecast is poor for Halloween weekend, and combined with a large number of persons on this land, this could severely damage this site," it said.