Chirk Castle conservators start months of housework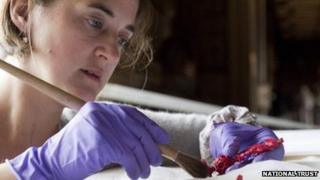 Housework taking three months to complete has started at Chirk Castle.
Four conservation experts have begun the painstaking task of cleaning artefacts dating to the 16th Century.
The National Trust is allowing the public to see the start of clean-up work before the castle's doors close for the season.
Everything from scaffolding to specialist vacuum cleaners and cotton buds are needed to help with the housework.
Conservators say they start from the top down, preferring to leave artefacts in situ where possible, cleaning items such as Civil War muskets in their position hanging on the walls.
Other items being cleaned include 18th Century silk settees, leather boots, textiles and wood panels.
'Careful'
One of the most difficult and delicate tasks jobs is checking the condition of the castle library's 2,000 books.
Most of them date to the 16th and 17th Century and are in their original bindings.
"Each book has to be very carefully cleaned and checked for damage, mould and pests like bookworms and paper mites," explained Joanne Thompson from the castle.
"In years gone by most of the grand houses and castles were closed up for the winter and the valuables cleaned and packed up.
"But many of the chemicals and methods used to clean were harsh, abrasive and damaged the items, so we have to be so careful about how we look after each piece," she said.
"Even the brushes we use have to be made of pony hair to ensure they are as soft as possible and don't damage the ceramics."
And one of the important tools used is a special conservation vacuum cleaner which has a gentle suction and delicate nozzles with a net to catch any fibres may need to be reattached to an artefact.
Chirk Castle, which was completed in 1310, includes a medieval tower and dungeon, along with a 17th Century long gallery, 18th Century state apartments and servants' hall.
It has been occupied by the same family, the Myddletons, for more than 500 years.