New orchards to be planted in Flintshire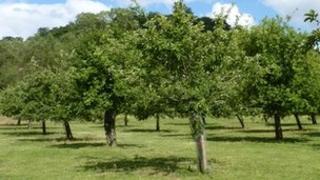 New orchards are to be planted to protect old fruit varieties and the wildlife they encourage in Flintshire.
About 90% of orchards have been lost in north east Wales over the last 40 years.
Now, wildlife experts want to find old orchards in Flintshire and manage them as well as planting new orchards.
The project is being run by Flintshire council and the North Wales Wildlife Trust which has been awarded £40,000 in funding from the Welsh government.
It is the latest in a series of projects to stop the decline in orchards.
The North East Wales Orchard Initiative was set up a few years ago to encourage local fruit growing.
It created four new orchards, propagating 36 fruit varieties and 416 trees.
In Denbighshire, a project to protect the rare Denbigh plum has been hailed a success.
It is now being grown in a community-run orchard as well as being produced and sold commercially.
Flintshire gooseberry
Managers of the latest project, including the Countryside Council for Wales, hope to build on that success.
They say that safeguarding local orchards helps to protect wildlife that live within them such as birds, butterflies, bees and insects.
They will also look for suitable locations to plant new orchards.
Rhian Hughes, project manager for the wildlife trust, said: "This project will identify 20 old orchards which will be managed as part of this project, and new orchards will also be planted."
One of the area's best known orchards is at the National Trust-owned Erddig Hall in Wrexham where head gardener Glyn Smith grows fruits, including modern and old fashioned varieties of apples.
They are celebrated in an annual apple festival held each October.
There is also said to be a local variety of damson around Wrexham.
And the search is on to find the so-called Flintshire gooseberry.
Although some are suspected to be growing in hedgerows in Mold, the variety of those has yet to be confirmed.