New Bradley Road traffic lights 'cause delays' in Wrexham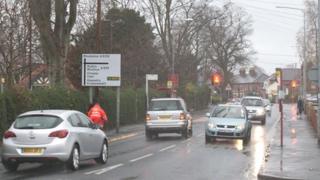 Motorists claim delays are being caused by new four-way lights installed after a supermarket opened on the outskirts of Wrexham town centre.
They say the hold-ups can affect surrounding streets and roads serving Wrexham Fire Station, the Maelor hospital as well as shops and offices.
Firefighters say the increase in traffic has not presented them any problems, unlike some businesses.
Wrexham council said it was monitoring the traffic flow on a daily basis.
But residents and businesses say the new layout is causing delays at certain times of day.
The traffic lights have replaced a mini-roundabout outside the entrance to Wrexham's Bellevue Park affecting traffic on Bradley Road, Ruthin Road and Victoria Road East.
Alan Groom, who works at one business on Bradley Road, said: "It's a damn sight worse.
"A lot of the time you don't feel safe crossing."
He said other motorists had started using his work's car park to turn their vehicles around rather than wait at the lights.
"That's something that never happened before," he said, adding that he had already seen one accident and several near misses in a few weeks.
One shop owner, who did not want to be named, said his business was being affected.
"Cars can't stop outside any more as there is so much traffic," he said.
Office worker Gaynor Morris said the lights added 20 minutes to her journey home during the evening rush hour, although there was not such a problem in the mornings.
"I've tried all ways getting home, it is grid locked at night," she said.
'Safely and efficiently'
Meanwhile, local resident Nicky Lincoln believes the traffic problems have worsened since the lights were introduced.
"Traffic queues right down the street," she said.
Ms Lincoln added that she has also witnessed an accident at the lights which were introduced as a Morrisons supermarket opened on Ruthin Road, next to an ambulance station depot.
BBC Wales could only find one person who was happy with the new road layout.
"I sail through," said Graham, who did not want to give his surname. "The traffic flow is much better."
A spokeswoman for North Wales Fire and Rescue Service said personnel had seen an increase in traffic outside Wrexham Fire Station in recent weeks but that it was not an issue.
She added there were two other "bottlenecks" in Wrexham - Plas Coch Retail Park and Grosvenor Road, although they had not presented officers with any problems.
North Wales Police have been asked to comment.
A Welsh Ambulance Service spokesperson said crews were operating normally out of their Ruthin Road depot.
"A new access and egress route at the ambulance station on Ruthin Road is also enabling vehicles to respond from the site safely and efficiently if needed," said the spokesperson.
John Bradbury, Wrexham council head of environment, said: "The opening of any new supermarket will inevitably bring increased traffic flow and officers are monitoring this on a daily basis.
"We have received no complaints about any delays or long queues and we are confident the new traffic layout will not cause any long term problems."