Family Heroes award for Wrexham carer Helen Wynne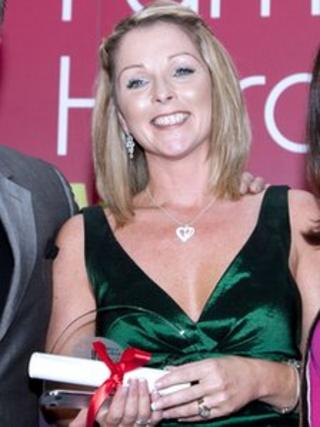 A woman who used her experience as the mother of a disabled child to set up a care service for similar youngsters has won an award.
Helen Wynne, of Wrexham, whose son was born with a rare chromosome order, was given the 4Children and Take a Break Family Heroes award for Wales.
She offers overnight and respite care and works evenings and weekends to allow parents a break.
Organisers said she had transformed the lives of those she had helped.
The Family Heroes Awards were launched six months ago to highlight people who make life better for others.
Working with health professionals, Mrs Wynne helps children of all abilities to play and feel at home, the judges said.
With her service, Blythswood Childminding, she provides care in both Welsh and English, keeps pets to stimulate the children, and organises weekly outings to a specialist riding school where she also volunteers.
To help the families, she offers both overnight and respite care and works evenings and weekends to allow parents a much needed break.
Helen runs workshops for parents and professionals, and her expertise means she is a source of knowledge and ideas, mentoring other childminders.
Paying tribute to her, one mother said: "There are many good childminders. Special ones take that little bit longer to find - Helen is without doubt one of the special ones."
'Almost impossible'
Receiving her award at a ceremony in London, Mrs Wynne said she hoped her success would inspire other childminders to take on children with disability.
"My own experience with my son taught me that overcoming the confidence barrier is all about common sense," she said.
"You soon realise that you don't have to redesign your home to look after disabled children, and I learned from parents and professionals how to provide specialist care myself, rather than depend on other people to do it for me."
Mrs Wynne said she had not thought of becoming a childminder for disabled children until she found it "almost impossible" to find even a babysitter.
"In the Wrexham area there are just a few childminders who provide specialist care out of the literally hundreds in the county," she said.
"Families with disabled children are allowed free respite care but it's almost impossible to find local care providers that offer irregular hours - and it's vital that these parents can find care during evenings and weekends."
Anne Longfield, chief executive of children's and families' charity 4Children, said: "Helen has transformed the lives of the people she has helped - not only the children she cares for but also their parents, who are given security of mind and the flexibility to balance their own caring commitments.
"Helping others is sometimes about joining forces with the efforts of others - but in Helen's case it was about looking around her and identifying a local need.
"Helen is an exceptional woman because she realised that help was missing and took upon herself the commitment to learn how to provide that support to those who need it."