Hanson Cement works has not caused ill health - report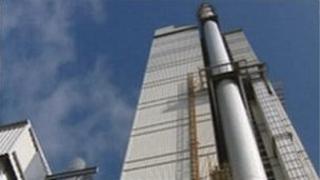 A 20-month investigation into the possible impact of a Flintshire cement works has concluded it has not caused any health problems.
Concerns raised by people living near the Hanson Cement Works at Padeswood, near Buckley, prompted the study ordered by the Welsh government.
A draft final report says there is no evidence the plant has caused health problems for staff or residents.
Hanson Cement said they were pleased with the way the study was progressing.
The latest investigation into the factory said the site can cause noise, dust and odour problems.
But it found they were not harmful to the physical health of the local community.
Experts from Public Health Wales, the Health Protection Agency (HPA), and the Health and Safety Executive (HSE) are hosting a public meeting in nearby Penyffordd to give an update.
Jane Lassey, HSE's head of operations in Wales, said: "The evidence from HSE's investigation indicates that the risks from exposure to hazardous substances are generally well-controlled at the site, and current occupational health provision exceeds what the law requires.
"During this investigation, HSE found no evidence of raised levels of cancers among employees at the site in the past 12 years.
Environmental nuisance
"Based on the current controls in place and the information available, the HSE's part of the investigation is now closed."
The Centre for Radiation, Chemicals and Environmental Hazards Wales (CRCEW), part of the HPA, will present a review of emissions of oxides of nitrogen, sulphur dioxide, carbon monoxide and metals which come from the cement plant, saying it has no concerns.
It compared data to national air quality standards which are health based.
Public Health Wales will also present a report of environmental nuisance complaints received by Flintshire council, Environment Agency Wales and Hanson Cement over 10 years from 2000.
The report was used to identify the geographical areas from which the complaints had come, the type of complaints, and the possible impact of noise, dust and odour nuisance problems.
Dr Judy Hart, consultant in communicable disease control for Public Health Wales, said: "Based on the data and information reviewed, the impact of nuisance factors such as dust, odour, smoke and noise are likely to be annoyance-related for some people in the community, impacting upon broader wellbeing and quality of life, rather than physical health."
The next phase of the investigation, beginning in January, will see experts asking for the views of local residents on how the findings are presented and whether their concerns have been addressed.
A final report will be published in April.
A spokesman for Hanson Cement said: We are very pleased with the way the investigation is progressing and we are looking forward to the final report being published."
All reports and presentations will be available on the Public Health Wales website.