Wrexham town memorabilia fetches thousands at auction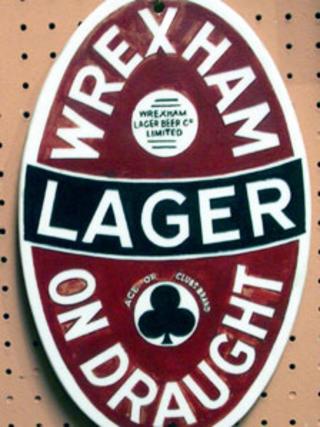 A collection of memorabilia of Wrexham town which took 60 years to amass has raised thousands of pounds at auction.
Former businessman Bob Gray, 78, could not bear to watch the 300 lots being sold, but his wife Ann said: "I think he's satisfied."
Items included a World War II air raid siren, sold for £65, and a 19th Century poster for a Wrexham brewery which fetched £500.
Auctioneers Wingetts said the sale attracted buyers from across the UK.
All items on sale were connected to Wrexham in one way or another.
Mr Gray's wife said her husband found "other things to do" as buyers packed the town centre saleroom to bid for items which included aluminium foot warmers.
Mr Gray ran an electrical business in Wrexham and stored his collection in a warehouse after accumulating items at antique sales and through his work.
'Satisfied'
He has given given talks about his vintage hoard to schools and local organisations.
Mrs Gray, who attended the auction, said: "We don't know yet how much was made, but I think he's satisfied.
"He didn't want to go himself because I don't think he could face watching it all being sold.
"Wrexham Museum took what they wanted and he's given a lot of stuff to other people, but he's still got plenty himself."
The collection included kettles and flat irons, advertising signs, gas lamps, electrical gadgets, wartime memorabilia and relics from Wrexham's days as a major brewing centre.
Mrs Gray said some items had fetched far more than expected, others less.
Richard Hughes, of auctioneers Wingetts, said: "It's been a very good sale.
"This was a unique collection and we've had a lot of people here from all over the country."