Son banned from approaching mother after knife threat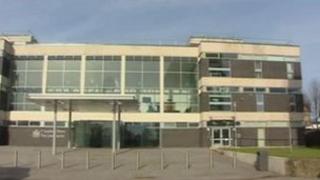 A man has been banned from contacting his mother indefinitely after holding a knife to her throat and asking if she wanted him to kill her.
Scott Langford, 22, was also jailed for two years but was warned at Mold Crown Court the sentence could be five years if he breaks the restraining order.
Langford, from Wrexham, admitted affray following the incident in August.
The order means he can write her one letter from prison in the next seven days, but must then not approach her.
The court heard Langford - who has previous convictions involving knives - had been released from prison shortly before the incident.
His mother was at a friend's house and Langford arrived, later falling asleep.
When he was awoken and told he could not stay at the house, he became violent, left, and then returned to threaten everyone with a knife.
'Disastrous consequences'
Brian Treadwell, defending, said Langford had taken alcohol which affected his behaviour.
Judge Niclas Parry said: "The slightest slip could have led to disastrous consequences.
"That knife was held to your mother's throat."
The judge said Langford could write one letter to his mother from prison, explaining why he would not be contacting her.
It would not be a breach of the order if he received letters or phone calls from his mother, he added, but said Langford could face a five-year jail sentence if he breached the order and approached her.
The order also bans Langford from approaching his brother, and he must not approach their home in Wrexham.