Confusion over owner of Wrexham chimney sold on eBay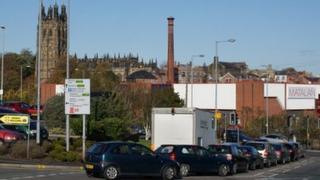 The sale of a Victorian town centre chimney has stalled, due to confusion over who owns the Wrexham landmark.
Former Wrexham MP and AM John Marek sold the former brewery chimney in Tuttle Street via auction website eBay in October.
He has said previously he acquired the building from Marston's 20 years ago, saving it from possible demolition.
But the brewer says now it cannot find any paperwork to confirm who owns it and is looking into the issue.
The would-be new owners of the 120ft (36m) structure say they hope to push on with the sale if the matter can be cleared up.
Subair UK, Saltney Ferry, Flintshire, wants to sell plaques on the bricks of the Grade II-listed chimney for the Help for Heroes charity, which supports armed forces personnel injured in Britain's current conflicts.
"There has been a problem with the paperwork," said director Russ Osbourne.
"We are a bit up in the air. At the moment we don't own it, but we don't not own it."
Dr Marek, who is currently away from Wrexham, said in a brief conversation with BBC Wales that he would be making inquiries on his return.
He said the brewers "maintain they own it but the chairman said to me that he would change it [ownership]".
But Marston's said it could not confirm ownership.
In a statement the company said: "Twenty years is a long time.
"We have looked at the situation and can't find a record of the transaction.
"We are investigating further and keeping in close contact with Dr Marek."
After failing to give the building away through local appeals earlier this year, Mr Marek advertised it on eBay pledging to give away the money raised to charity.
Built in 1894, the chimney was part of the former Soames brewery which later became part of Wrexham's Border Brewery.
It closed in 1984 after a takeover by the Marston's group and the future of the chimney was then put into doubt before Dr Marek agreed to become its custodian.
Dr Marek said in October that the chimney's structure was in a good state of repair with a survey showing no sign of problems.
He said then that insurance on the landmark has been costing him about £800 a year.
The Tuttle Street chimney marks the site of one Wrexham's former 19 breweries.