Haydn Evans: clothing on lake body matches missing teen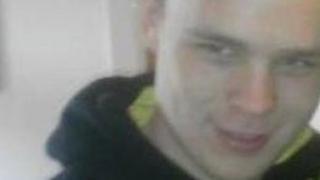 Police say clothing found on a body discovered in a hotel lake matches the description of those worn by missing 18-year-old Haydn Evans.
The teenager from Mold, Flintshire, disappeared after a party at the Carden Park Hotel in Broxton, Cheshire, eight days before Christmas.
Cheshire Police say there are no suspicious circumstances surrounding the discovery at Carden Park on Friday.
A post-mortem examination and formal identification will take place later.
The disappearance sparked a massive search operation, involving up to 50 police officers and volunteer search units.
He was last seen at the entrance of the Carden Park hotel at 01:00 GMT on Saturday, 17 December.
Landowners and farmers were urged to check outbuildings in the rural area surrounding the hotel.
On Friday afternoon, police confirmed that an underwater team had found a body at one of the lakes at the Carden Park Hotel, 13 days after he was reported missing.
Cheshire Police said in a statement: "The description and clothing of the deceased matches that of missing north Wales teenager Haydn Evans, although formal identification has not yet taken place."
A post-mortem examination is expected to take place on Saturday.
Police say the teenager's family are being kept informed of all developments, and asked for their privacy to be respected.
Relatives had made an emotional appeal for help to trace Haydn on Wednesday, saying that "words cannot describe the despair that we feel".
"Christmas has passed and Haydn′s presents remain unopened," they said.
"Every day that passes becomes more difficult and we have a huge void in our lives."