Llangollen Railway line extension to Corwen approaches half way mark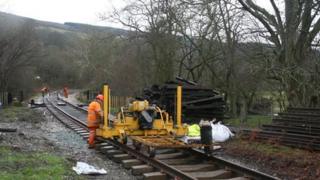 Work to restore a rail line to a Denbighshire town is approaching the half-way mark, say enthusiasts.
Llangollen Railway is extending its line to Corwen and enthusiasts say track laying is going well with the route already cleared and fenced off.
People officially walked the two-mile (3.2km) extension for the last time this week. The next time will be by train when the line opens next year.
Currently, the line covers seven miles (11.2km), from Llangollen to Carrog.
Railway enthusiasts and workers are currently extending the route close to the A5 Holyhead Road and are reaching an area called Bonwm.
In all, a team of 20 are involved in the track-laying and others have been involved in clearing vegetation and fencing and gating the area either side of the line over the last 12 months.
Ten water culverts, four under passes - also carrying streams - and one over bridge serving a farm all form part of the route and need to be checked, restored and maintained.
Jim Ritchie, chair of Llangollen Railway Trust, said the biggest challenge is to prevent further erosion caused by the river to two sections of the track bed along with the restoration of the Victorian bridge.
Annually, 100,000 passengers travel on Llangollen Railway which forms part of the old Ruabon, near Wrexham, to Barmouth Line.
Construction of the line from Carrog to Corwen, including a planned new station, has been costed at £4.6m, and although some "invaluable" grant funding has been obtained from the Welsh government, the railway is expected to contribute £1m from its own resources.
Enthusiasts hope the track will be completed by December, reaching a temporary platform at Corwen.