Some Broughton Airbus A320 wing work moves to Korea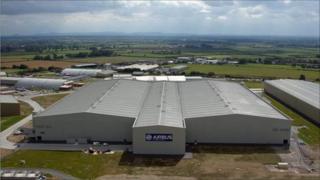 Aircraft-maker Airbus is switching part of its wing production to another company in Korea, but it says it will not hit jobs at its Flintshire plant.
The Broughton factory employs more than 6,000 people, including about 200 on wing panels for the A320 aircraft.
That work is being outsourced to Korean Aerospace Industries but Airbus said the decision would help strengthen the business.
The union Unite described the move as "a massive own goal".
Airbus said the its decision would allow its Broughton facility to focus resources on "key high value production areas, core competencies of wing assembly and equipping".
This high level work and final assembly of the A320 wings would continue to be carried out at Broughton, it added.
It said the 200 employees currently working on wing panels would be redeployed within the plant.
Unite's national officer for aerospace and shipbuilding, Ian Waddell, said: "This decision is a real blow for the UK aerospace industry.
"We have many UK companies that are ready, willing and able to carry out work for Airbus but who have missed out now that work is being sent offshore to Korea."