Centre for RE and Faith Development aims to raise teaching standards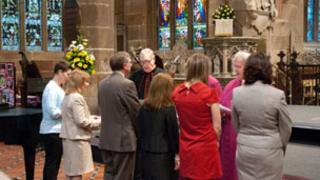 The Archbishop of Wales has formally dedicated an education centre in Wrexham which it is hoped will raise standards in religious education.
Dr Barry Morgan attended a service on Saturday at St Giles' Church, which houses the £500,000 Centre for RE and Faith Development.
Schools across Wales have already visited the centre.
Dr Morgan said the aim was to inspire children and teach "respect, tolerance and responsibility".
He added: "Learning about different religions and what it might mean to take religion seriously, as well as seeing life from other perspectives, is more important than ever for young people today.
"It teaches them values such as respect, tolerance and responsibility and raises awareness of our common humanity.
"The challenge for this new centre will be to equip teachers with high quality materials that will engage and inspire children, whether they are in Sunday school or teenagers."
Gavin Craigen, the centre's executive director, said: "Our aim is to see religious education taught more effectively to children and young people - not just in Wrexham but across Wales, and for young people to become excited and positive about their faith."