Plan to charge for moorings at Rhyl's Foryd Harbour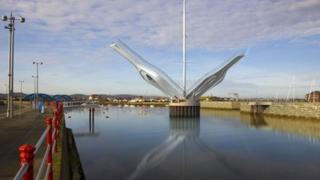 Boat owners using Rhyl's Foryd Harbour may have to pay towards the cost of running the town's new £9.9m marina.
The scheme, which includes a pedestrian bridge over the River Clwyd, is expected to be completed in 2013.
Denbighshire council's communities scrutiny committee will be asked this week to approve a scale of moorings charges, which used to be free.
Last year, councillors voted to spend £500,000 on the project after costs rose by £700,000.
The proposed fees for use of the council-owned moorings will be from £300 a year upwards, depending on the size of the boats.
Owners providing their own moorings will pay per metre each year.
It is also proposed to introduce charges for vessels using the harbour, whether or not they are moored there.
As well as the pedestrian bridge, the scheme will extend the sea wall to provide up to 100 moorings, as well as creating a public square with shops, cafes and other buildings.