Flooding in Denbigh despite £4.9m project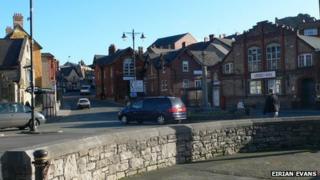 Business leaders have criticised a £4.9m flood relief project in a Denbighshire town, saying problems still occur during heavy rain.
Work to replace 200-year-old culverts under Denbigh caused almost two years of road disruption.
Although work officially ended last summer, Denbigh Business Group says there have since been three floods on roads around Lenten Pool.
Welsh Water will carry out work to sort out the problem next month.
The company, which manages the sewers, is due to meet business leaders next week before carrying out the "necessary work" in February.
Welsh Water said work to fix a blockage will take place at Lenten Pool from 6 February, along with other work at Smithfield Road and Cae Fron at either end of the town.
Denbighshire council confirmed essential work to fix the problem would be carried out.
It said the flood relief project "might have had a knock-on effect on the sewer system", which is managed by Welsh Water.
Localised flooding
Cafe owner Sue Muse, secretary of the business group, said: "They [Denbighshire council] spent millions with road disruption and roads closed to find it has not alleviated anything whatsoever."
She said the instances of flooding have not been "major" but said there has not been much rain in recent months.
Ms Muse and other business group members held a meeting with senior members of Denbighshire council late last year to discuss their concerns.
She is now due to meet representatives of Welsh Water on Monday.
It has not been confirmed whether sewage water or rain water has caused the localised flooding.
Tunnelling techniques
Councillor Sharon Frobisher, Denbighshire's lead member for environment, said: "We know the work will cause some inconvenience to road users as it goes ahead, and the council and Welsh Water apologise for this and thank drivers in advance for their patience."
Denbigh councillor Colin Hughes said while there had be further instances of flooding, the initial work carried out to protect properties around Lenten Pool had been successful
"People have suffered for many years but there have been no problems since the work," he said.
The work completed last year was carried out to protect 250 properties from flooding.
The area at greatest risk was Lenten Pool near the town centre. It takes its name from Elizabethan times when it was dammed to breed fish for Lent.
A brook still runs through the town but it is piped through culverts. To try to keep disruption to a minimum, contractors used tunnelling techniques to avoid digging up roads.
It was funded by the EU convergence fund managed by the Welsh European Funding Office and led by Denbighshire council.