Airbus says 'solution found' to A380 wing cracks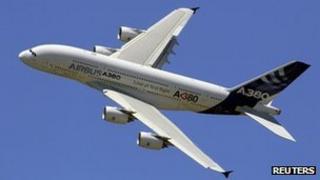 Airbus says it has found a solution to cracks which appeared on parts inside the wings of some A380 Superjumbos.
It acknowledged manufacturing and design flaws but insisted the world's largest airliner is safe to fly.
The European Aviation Safety Agency (EASA) ordered inspections last week after two types of cracks were discovered on a bracket.
Airbus, which makes wings at Broughton, Flintshire, would not comment further until inspections were complete.
Inspections were ordered on almost a third of the Superjumbo fleet, with aircraft owned by Singapore Airlines, Emirates and Air France affected.
Airbus confirmed reports it had discovered more examples of the cracks during the latest wing inspections, but declined to give further details before Friday's deadline for completing a first phase of checks.
Tom Williams, Airbus' executive vice president of programmes, said the cracks were caused by a combination of the choice of aluminium alloy for certain wing brackets as well as stresses imposed at two stages of the manufacturing process.
"The A380 is safe to fly," he added.