London Olympics 2012: Nicci Shrimpton to carry torch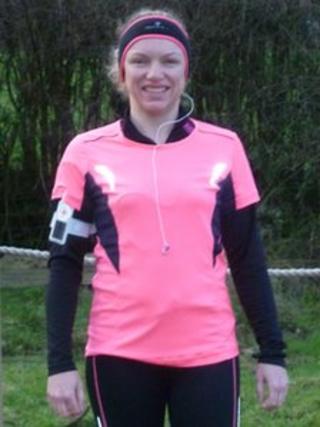 A Powys charity worker has been chosen to carry the Olympic torch on part of its route through Wales.
Nicci Shrimpton, 45, from Caersws, says she will be carrying the torch somewhere between Swansea and Aberystwyth on 27 May.
The Action for Children worker was nominated by her manager in recognition of her work with disabled children.
Ms Shrimpton said she was "gobsmacked" to be among the 8,000 runners chosen for the 70-day relay before the games.
She works for Action for Children, which runs 130 services across 50 sites in Wales, supporting vulnerable and neglected children and their families.
She said: "I was gobsmacked but absolutely delighted to be chosen as I thought the chances of actually being picked were so minimal.
I couldn't be more pleased."
She was nominated by her manager, Eve Chinnery, in recognition of her fundraising achievements and for helping disabled children outside work.
Ms Chinnery said: "Nicci thoroughly deserves to take part in this historic sporting event.
"She is a hard working and dedicated member of the team."