Llay parents oppose Wrexham council school bus charges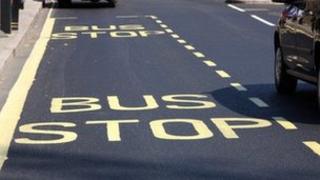 Parents in a Wrexham community are opposing council changes which could force them to start paying for school bus transport.
Families in parts of Llay will no longer be entitled to free bus travel to the two high schools where the community traditionally sends children.
Wrexham council said it was bringing in the changes to create a fair system for all families in the county borough, but it will honour previous arrangements.
Parents are to meet the council.
School governor Dave Adams said parents had set up a group called Save the Buses to try to find a compromise with Wrexham council.
He said parents had costed putting on their own bus, but at £18,000 a year it was not viable, as it worked out at several pounds a day per child.
'Hazardous'
The group is due to meet council officials later next week, said Mr Adams, a parent governor at Park County Primary School in Llay who helps to co-ordinate the parents' action group.
Traditionally, parents send their children to either Castell Alun in Hope, or Darland in Rossett. For some families in Llay the nearest school is Bryn Alyn in Gwersyllt, but the community has not usually used it before now.
Under the changes, parents will have to arrange and pay for the transport of children starting secondary school if it is not their nearest, but not for any siblings already attending the same school.
The council's new policy says it will only pay for travel if the route to school is deemed "hazardous" in road safety terms or if the nearest is over three miles (4.8km) away.
Wrexham council said it had to ensure the system was fair to everyone rather than continuing to follow tradition and pay for some transport.
John Davies, head of life long learning at Wrexham council, said the authority made a decision in March 2010 to update its school transport policy although it does not start until after the summer holidays.
"For secondary age pupils in Llay and elsewhere in the county borough, free transport will only be provided for new applications for those pupils attending the school which is their nearest, if the distance qualifications are met," he said.
"For those attending schools which are not their nearest, parents will have to arrange their own transport and meet those costs," he said.
The planned changes prompted similar concerns from families in Chirk.