Prestatyn taxis in go-slow protest over rank places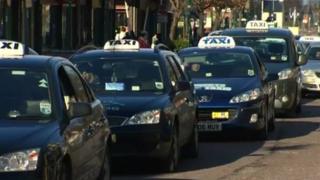 More than 20 taxi drivers have taken part in a rolling blockade through Prestatyn in protest at further changes to the siting of their cab rank.
The drivers say Denbighshire council has failed to consult them over plans during town redevelopment work.
The areas taxi drivers' association says it could hold more protests if the issue goes unresolved.
The council says the latest change is due to unforeseen work now needed near the town's bus station.
But Drew Bloor, chairman of Denbighshire Licensed Taxi Drivers' Association, said the council should be talking to the drivers.
"They haven't considered the needs of the public in the town. Drivers don't know when they come into work in the morning where they are going to work from... they're losing trade," said Mr Bloor.
He said drivers had been forced to move four times in the past year.
He warned that without discussions with the council on the issue, there could be further go-slow action in the town from his group, which represents the 60 taxi operators in Prestatyn.
Town development
However, Denbighshire council has insisted that the latest decision to move the taxi rank was a necessity, as part of £600,000 redevelopments.
"Problems have been encountered on the bus station project which require some urgent design work to overcome them," said a spokesperson.
"While this is undertaken, and to ensure the overall completion date for all the highway work is still met, it is necessary for the contractor to now commence work on the bottom of the High Street earlier than originally planned.
"It would be unsafe to allow the existing High Street ranks to remain open during this period which is why the alternative provision is being made."
The council said that from 14 February, signs would direct the public to temporary taxi ranks operating from outside St John's Methodist Church on Station Road, and between Ty Nant and the High Street.