Call for decision on new medical centre at Chirk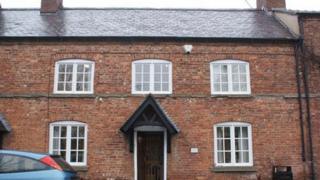 A doctors' surgery manager who says he has been trying to secure new premises for many years has called for a decision finally to be made.
Keith Benning, who manages the practice at Chirk, near Wrexham, fears land earmarked for the project may be lost.
He says the current surgery does not meet the needs of its 9,500 patients.
The Welsh government said it wanted more details from Betsi Cadwaladr health board, and it will then consider the plan for approval.
Mr Benning, who is due to retire this year, said the centre employs 14 clinical staff, including seven GP partners, and about 15 support staff.
Housed in 18th Century, Grade-II-listed cottages, there are six consulting rooms, but no lifts.
He said: "If you get a patient in the morning who's due to see one of the doctors upstairs and can't get up the stairs, you have to wait for the doctor downstairs to finish with their patient, then have a doctor upstairs move down and swap them over.
"There's nowhere for patients to park and get across the pavement into the surgery. It's not good."
He said the application for funding for a new primary care centre was started in 2003, and a piece of land in Chirk, owned by Wrexham council, was ear-marked.
"I know these these sort of projects normally take about five years, but here we are nine years on," he added.
"These days, when you build a medical centre you are more than likely to have to do it out of town.
'Rare opportunity'
"But there was a piece of land bang in the middle of Chirk owned by Wrexham council, and it was a rare opportunity to build a medical centre in the middle of the people it's meant to serve.
"I think there will come a point where Wrexham council assumes it's not going to happen.
"Finding another site will be extremely difficult. We're in danger of losing it."
He said the project was delayed when designs were submitted to the Design Commission for Wales, which were "torn up" because they wanted "statement buildings throughout Wales".
As a result, he said the project was "held up for a couple of years and we have had problems ever since".
A re-organisation of the 22 local health boards in Wales, into seven regional boards, also delayed the process, he claimed.
After passing through various other departments, he said, the project ended up with Health Minister Edwina Hart, who was replaced by Lesley Griffiths.
He says at a meeting in 2009 he was told the project was "nearly there," but "nearly three years later, here we are and not a single brick has been laid".
He said the plans were now "in limbo," adding: "This is an opportunity that's too good to miss for the area.
"All these glossy strategies that come out of Cardiff about Wales having a world-class health service... they talk about taking care out of hospitals and into the community.
"You can't do that unless you have the facilities."
The Welsh government said the Betsi Cadwaladr University Health Board (BCUHB) was responsible for progressing schemes in north Wales, and it submitted a bid in 2009, followed by a revised bid in 2011.
The Welsh government said it had requested further information from BCUHB, adding: "Once this information is received from the health board, the bid for funding will be considered for approval by the Welsh government."
In a statement, The Design Commission for Wales said: "We are surprised by Mr Benning's comments which do not reflect the comment of the commission.
"We have no current information regarding the project and its planning status, or any involvement in the process through which it passes with the Welsh government."
It said it deemed initial plans "unacceptable" for a variety of reasons, but in later reviews noted that some improvements had been made.
The commission added that "we have heard no more about the Chirk scheme since November 2007".