Man's body found in Llangollen caravan fire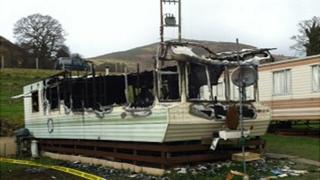 An investigation has started by the fire service and police after a man was found dead in a caravan after a fire in Denbighshire.
The man, thought to be aged in his 40s, was discovered in the caravan in Abbey Road, Llangollen shortly after 23:00 GMT on Monday.
North Wales Fire and Rescue issued safety advice and said a smoke alarm was essential for early warnings.
Two crews from Llangollen and one from Chirk tackled the blaze.
The fire service issued advice to caravanners and campers following the blaze.
It follows another caravan fire in Barmouth in Gwynedd last June where two men died, and a two-year-old girl was seriously injured.
Gareth Griffiths, senior fire safety manager with the North Wales Fire and Rescue Service said a fire in a caravan is potentially more hazardous than a fire in a house.
"This is because they are smaller and more confined - so it is essential that a smoke alarm is fitted to give an early warning of fire."
He said it was essential to ensure that tents and caravans are kept at least six metres apart.
Other advice includes finding out what the fire-fighting arrangements are on a campsite and making sure an optical smoke alarm is fitted and working.