Flintshire: Council discusses 'weaknesses' highlighted by Wales Audit Office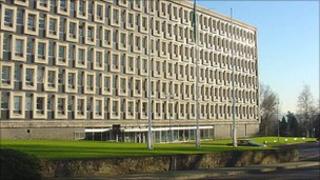 Councillors in Flintshire are to discuss how to respond to a watchdog's report into the local authority which highlighted some weaknesses.
The Wales Audit Office (WAO) said those problems "continue to hinder its performance and future prospects".
The findings in its annual improvement report also found good progress in some priority areas.
It follows a WAO report last year which found "weaknesses" in the housing benefit system.
The auditor general is required to publish an annual improvement report for each authority in Wales, and covers councils, national parks and fire and rescue authorities.
This is the second such report for Flintshire council and will be discussed later on Monday by its corporate resources overview and scrutiny committee.
The overall finding of this year's report found: "Despite progress in many service areas, certain corporate weaknesses continue to hinder current performance and future prospects."
'Good progress'
Other key statements in the WAO report are: "The council has a strong commitment to partnership working to support improvement, however progress in achieving the council's objectives is being held back by weaknesses in priority setting, governance, financial planning and people management."
It added that there was "good progress" in some priority areas, but elsewhere progress was mixed and some services are "not yet delivering provision at the expected levels".
The WAO has recommended that the local authority report more fully and regularly to the executive board on progress in delivering the human resources strategy.
It said the council also needed to complete its work in "quantifying the financial benefits of its programme of efficiencies and organisational change by mid-2012/13, to determine the remaining funding gap, and then establish clear plans to identify further savings and/or redirect resources to priorities".