Wrexham's local development plan rejected over housing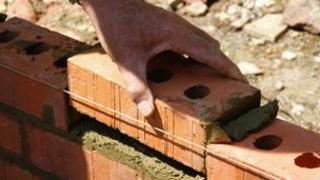 A council's new planning blueprint is being scrapped due to a dispute with the Welsh government (WG) over the number of new homes needed.
The WG's planning inspectorate believes Wrexham council should raise its 10-year target of 8,000 homes to 11,700.
A government spokesperson said the council hadn't provided "robust evidence" for its lower target.
Wrexham council said its plan had "widespread community support" and could take three years to rewrite.
Wrexham's planning officers will now have to go back to the drawing board to come up with a new local development plan.
The main issue is the number of new homes sites identified in the plan.
Questions were also raised about the number of affordable homes being proposed and whether there was enough provision for travellers' sites in the county.
'Evidence needed'
A council spokesperson said there would be an additional cost involved in officer time spent drawing up a new plan.
A Welsh government spokesperson said they had been working closely with Wrexham on its local development plan and had been advising the council "for some time" of "the need to back up their plan with evidence".
"Unfortunately Wrexham were unable to provide the robust evidence needed and have now taken the decision to withdraw the plan," said the spokesperson.
"Welsh government officials will continue to liaise with Wrexham officers to consider the best way of bringing forward a revised plan that addresses the issues raised by the planning inspector."
Meanwhile councillors in Conwy have voted to approve its local development plan, but with further consultation on all individual sites where there have been objections.
A further vote was taken on the number of houses which can be built under the plan, but councillors decided this should remain at 6,800.