Chirk's Church Street cobbles to be removed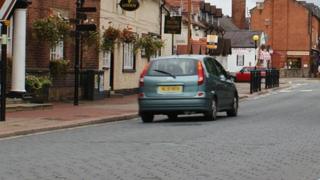 Chirk's controversial cobbled high street is being replaced with a new surface after years of criticisms.
The road surface imprinted with a cobbled pattern was laid on Church Street in the 1990s, but was partly replaced after it started to break up.
Local people have welcomed the news Wrexham council is replacing the road.
The authority admitted the road surface, originally laid in a project by the former Welsh Development Agency, had not been successful.
Chirk North councillor Ian Roberts said local people had been trying for years to get the whole road surface replaced.
Breaking up
"Thank goodness," he said.
"It has taken some time but we are getting somewhere.
"It was supposed to be a high-wearing surface but it was coming off in lumps."
A pedestrian crossing is also being installed as part of the £30,000 upgrade.
A Wrexham council spokesperson said: "The original imprints were a new process of the time but it was not successful and failed within a few years of being installed.
"Under conditions attached to the original works the council have had to wait at least 10 years before any work could be done to remove them."