Wrexham delay as Plas Coch Road traffic hotspot widened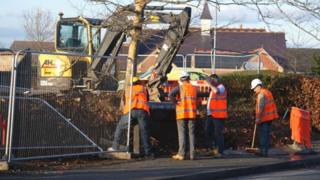 Drivers could face delays as work is under way on a road-widening scheme to ease congestion at a well-known traffic hotspot in Wrexham.
Sainsbury's, which is paying for the road-widening scheme on Plas Coch Road, said work could continue until the end of April.
It has a store nearby and said the work had been a "long time coming".
Wrexham council's deputy leader, David Bithell, said it would be "welcomed by everyone who uses the busy roadway".
Sainsbury's said planned work in late 2011 had been put back to avoid disruption to Christmas shoppers.
Single lane
It said Plas Coch Road would be widened to two lanes approaching the roundabout, "doubling the available queuing space on the road from approximately 25 to 50 vehicles".
Alan Howard, Sainsbury's project manager, said: "It is great to finally be on site.
"These works have been a long time coming so we are going to complete them as quickly as possible with the minimum amount of disruption.
"We hope to have everything done and be off site by the end of April."
Phase one, which will include ground clearance and building a retaining wall, is under way.
The retailer said it "hopes to maintain two-way traffic flows throughout the works, but there will be times when the road will have to be reduced to a single lane and managed by temporary traffic lights".