Police halt camping and parties at Castell Dinas Bran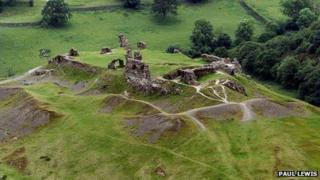 Police and countryside wardens are clamping down on unofficial camping and parties beneath an iron age hillfort in Denbighshire.
They say the overnight camps are damaging land and leaving a mess for wardens to tidy up at Castell Dinas Brân in Llangollen.
Broken bottles, grass burned from fires and even tents are left behind.
A clean-up was held on Friday at the site, which attracts 33,000 people a year.
Castell Dinas Brân is popular with walkers as it is within the Clwydian Range Area of Outstanding Natural Beauty (AONB).
Denbighshire council says the litter problem creates a poor impression to visitors.
The area worst affected is known locally as "The Pancake" and is en route to the castle ruins on top of Dinas Brân.
And with numbers of incidents increasing, officials have promised action.
'Anti social activity'
Community beat officer Pc James Lang said: "This is an issue of anti social behaviour and, as such, we will be responding to reports of parties on the pancake and moving people off the site.
"If anyone sees any anti social activity, we would urge them to contact the police by dialling 101 and we will do our best to attend."
Council countryside workers will work with police, Llangollen Town Council, Keep Wales Tidy and the Llangollen Tidy Town Team to keep an eye on the area.
Volunteers hold monthly litter picks in the town and the latest is being held on Friday.
"Castell Dinas Brân is the best used countryside site in Llangollen," said countryside officer Rhun Jones.
"It has over 30,000 visitors a year, many of them from overseas, and often one of the first things they see as they enter the site is a sea of tins and bottles, many of them smashed.
"There are scorch marks on the grass from camp fires, and we often find clothing and tents left there as well."