James Beck's death at Meliden quarry was an accident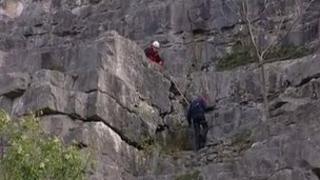 A teenager who fell while playing at a disused quarry died accidentally, a coroner has recorded.
James Beck, 14, from Prestatyn had been playing at the Meliden quarry with a friend when he fell 12m to 19m (40ft-60ft).
He landed on a ledge but was declared dead at the scene.
The coroner said prevention of future accidents was discussed but the risks were obvious.
The inquest heard how the boy who was with James, a Prestatyn High School pupil, told police he heard a girl shout: "Ginge has fallen."
James had suffered severe head injuries.
A statement from James's stepfather, Gary Jones, said the quarry had always been a popular place for youngsters and he used to play there as a boy.
Recording his verdict, Assistant Coroner Kirit Champaneria said a multi-agency meeting was held to consider whether action should be taken to prevent future incidents, but he said the risks were obvious.