Cable thieves risk lives police warn after Flint sub-station thefts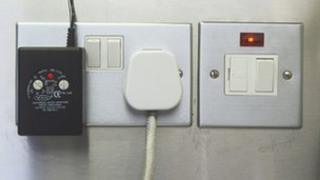 North Wales Police and ScottishPower are targeting thieves who are stealing cables from sub-stations in Flintshire.
Officers said they are risking lives and the electricity company is offering a reward for information which leads to a conviction.
As the doors to the sub-stations are left open after the thefts there is also concern about public safety.
No homes were left without power after the recent thefts which happened over the last three weeks.
"This type of theft is becoming too common and has a major impact on the wider community," said Andy Stubbs, zone manager at ScottishPower.
'On-going problem'
"Although no homes directly lost power on this occasion, it is important all our equipment is in service so we can maintain a good quality of electricity supply to all of our customers who depend on our service, including schools and hospitals."
He added that the thieves showed little regard for their own safety, but also the safety of the public and the company's employees.
"Doors to sub-stations have been left open following these thefts, which is a real danger to anyone who might go inside, let alone our employees who are trained in safety procedures," he added.
Inspector Jeff Moses, the district inspector for north Flintshire, said the theft of copper cable from electricity sub-stations in the Flint area is an on-going problem.
"If anyone notices that a substation has been broken into they should report it and under no circumstances should they enter the structure as the equipment poses a serious danger to anyone not trained to deal with it.
"I would also urge parents and guardians to make sure children keep away from substations," he added.
ScottishPower has asked anyone with information to contact a 24-hour confidential hotline on 0800 027 1950 or North Wales Police can be contacted on 101 or Crimestoppers on 0800 555111.