Drug smuggling: David Lewis and Everardus Wijtvliet jailed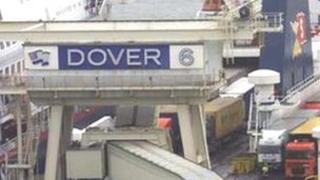 Border officials say long jail sentences given to two men who tried to smuggle drugs through Dover should act as a warning to others.
Lorry driver David Lewis, of Buckley, Flintshire, and truck owner Everardus Wijtvliet, of Dussen, Netherlands, were given nine and 13 years respectively.
They were convicted of smuggling 100 kilos of heroin and six kilos of cocaine at the Kent port.
The UK Border Agency said it had been a "sophisticated drugs concealment".
The agency estimated that the combined street value of the drugs was more than £5m.
It said Canterbury Crown Court was told that Lewis, 49, was arrested in 16 July 2009 when the lorry and trailer were searched.
The drugs were found in packages in a space under a plate on the floor of the trailer.
The agency said Dutch police searched Wijtvliet's house, and in his garden found trays similar to those in the lorry.
Wijtvliet was arrested on the Spanish island of Tenerife in February 2011, on the same day that he was placed at number 10 on the Crimestoppers "UK's Most Wanted" list.
Both men were convicted by jury of being knowingly concerned in the fraudulent evasion of the prohibition of controlled drugs and sentenced on Friday.
Wijtvliet was found guilty in September 2011 and Lewis in February 2012.
Malcolm Bragg, of the UK Border Agency, said the sentences "should act as a warning to those who attempt to smuggle illegal drugs into this country".
"This was a sophisticated drugs concealment and shows the lengths criminal gangs will go to in attempting to evade the UK's border controls," he said.
"Drug use destroys not only the lives of individual users, but also their families and the wider community."