Falklands return for veterans Tim Cahill and Jonathan Hughes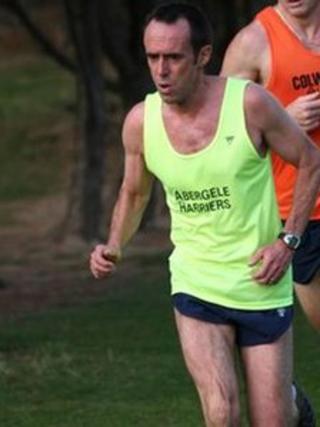 Two school friends who served together in the Falklands War are due to return to the islands on the 30th anniversary of the conflict to run a charity marathon.
Former Prestatyn High School pupils Tim Cahill and Jonathan Hughes, now both 50, served with the Royal Marines.
They said the trip will trigger mixed emotions as they remember colleagues who did not return.
The Stanley Marathon will pass some of the areas where they saw action.
The visit has been organised and subsidised by the South Atlantic Medal Association who has also arranged for the men to stay with a local family in Stanley.
Both men set off for the South Atlantic just a few days after the war broke out in 1982.
Mr Cahill travelled on the cruise ship Canberra and Mr Hughes on the ill-fated Sir Galahad.
"We've always planned to go back sometime and considered going for the 25th anniversary," said Mr Cahill, who lives in Rhuddlan and is a quality manager with Qioptiq Space Technology in Bodelwyddan.
"It's a beautiful place and we'll have a good look around places like Ajax Bay and San Carlos," he said.
Jonathan Hughes, from Meliden, now works as a sports science lecturer at Glyndwr University.
He lost colleagues in action and hopes to visit some of their graves.
"As the trip gets closer I'm starting to think of things which happened which I have not thought about for quite some time," he said.
The keen runners have been training hard for the marathon - Mr Cahill is a member of Abergele Harriers and Mr Hughes of Eryri Harries.
Despite their fitness however it could be the weather which will poses the biggest challenge as winds are likely to be up to 60 miles an hour.
They hope to raise around £1,000 each for the Royal Marines Charitable Trust Fund.