Rhyl's Ocean Plaza 'bomb site' needs clearing, say councillors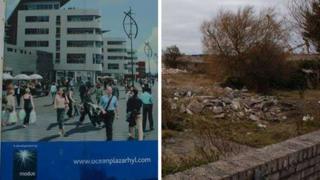 Councillors in Rhyl claim a "bomb site" of land earmarked for a delayed £85m seafront development needs to be tidied up to avoid deterring summer visitors.
The Ocean Plaza scheme has been on hold for five years due to the economy.
Rhyl West councillor Joan Butterfield said it was an "eyesore" and should be grassed over.
Owner Scarborough Development Group (SDG) said it was talking to Denbighshire council, which stressed the land was privately owned.
Rhyl's funfair was demolished in 2007 to make way for the Ocean Plaza complex, which was to consist of luxury apartments, a hotel and a supermarket.
The plot was bought by SDG in 2010 after the original developers went into administration.
Last year, SDG said the development was on hold because of the difficult economic climate, but said it had not been shelved.
At the time, the company indicated the apartments might be removed from the plan because of poor re-sale possibilities, but said it was confident the supermarket deal would be sorted out.
Joan Butterfield, who sits on the town and county councils, said the site was currently a "terrible mess with no prospect of being developed in the near or perhaps distant future as far as I can see".
She added: "We have been promised some development of the site for five years or more.
"I do appreciate the financial situation is difficult, but this doesn't happen in other seaside towns. It's gone on for too long.
"There's no intention now of developing the site that we know of.
"I think Rhyl has had the bomb site for long enough and I think it's time Scarborough took some ownership and gave the townspeople of Rhyl some thought and consideration."
Ms Butterfield said holidaymakers had remained "very loyal" to Rhyl, but she fears they "might just move on" unless promised improvements materialise.
She said she planned to ask Denbighshire council's leader and chief executive to give Rhyl Town Council an update on the development.
'Season approaching'
Fellow Rhyl West councillor, Ian Armstrong, said: "You come into Rhyl and you see a bomb site.
"It's spring now, and in three or four weeks it will be Easter. The season is approaching.
"I'd like to see a children's playground, or a grassed area. Some seats could be put there.
"At the moment, it's not bringing people in to the West End of Rhyl."
A Denbighshire council spokesperson said the site was privately owned, but added that SDG had agreed to look at landscaping options.
SDG said it was "continuing to make progress and is in constant discussion with the council".
Part of the site is being used as a storage facility for flood defence work under way at Rhyl.