Vauxhall's Ellesmere Port plant pressure call by Welsh MP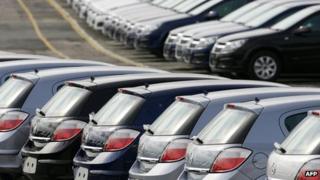 A Welsh MP says it is vital the UK ministers keep up pressure to secure the future of Vauxhall's car plant in Cheshire.
At least 350 workers from north east Wales are employed at Ellesmere Port.
But Vauxhall's American parent company General Motors (GM) is now reviewing its entire European operation.
Delyn MP David Hanson and a group of other north Wales MPs met the UK business secretary, Vince Cable, three weeks ago to raise the issue.
"I've been assured that the government will be doing what it can to maintain a strong manufacturing base in our area, but it's vital that ministers keep up the pressure," said Mr Hanson.
Mr Cable, who flew to New York last week to meet GM management, has told the BBC he does have "concerns" about the future of the factory, but that he is also "positive" that GM will keep it open.
"We have set out a very positive case to them for remaining, and indeed expanding their operations in the UK," said Mr Cable.
"I'm positive, but it is their decision and they haven't yet made it."
His comments came as the chief executive of GM's Opel and Vauxhall division, Karl Stracke, vowed to "work aggressively" to make the brands profitable.
Mr Stracke was speaking at the Geneva motor show, where he declined to offer any assurance to workers in the UK or Germany.
Component suppliers
Industry observers have said that Vauxhall's Ellesmere Port factory in the UK and Opel's Bochum factory in Germany are likely candidates if Mr Stracke decides to close a plant.
The GM boss said a review of the European operations would take place over the next two to three months.
The Delyn MP said about 350 Flintshire residents worked at the Ellesmere plant.
Scores of other jobs also rely on work generated by the factory, including Cobra UK which makes automotive components.
It recently announced it was relocating its operation from Welshpool, Powys, to Wrexham, so it could be closer to the Vauxhall plant.
"I want to ensure that everything is done to make sure Vauxhall continues to be such a strong performer in the local economy," added Mr Hanson.
"The Vauxhall plant at Ellesmere Port has produced fantastic cars for more than 50 years and creates employment which is crucial to both the North West of England and also to the north Wales economy."