Brymbo follows Garden Village to host its own market day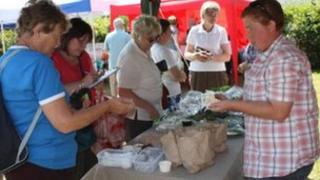 A second Wrexham community has started its own market so people can "pop round the corner" to buy fresh produce.
The decision to run the local market in Brymbo follows the popularity of another in Garden Village which was set up by a local councillor 10 months ago.
Now, some of the 35 traders who attend Garden Village's monthly Saturday market have signed up at Brymbo.
"The community have really embraced it," said councillor Andy Williams.
He said the idea behind the market was to provide a reliable source of locally made and grown produce, including fruit, vegetables, cheese, meat and cakes, among other things.
Garden Village Market now has a following of 500 people on the Facebook website with people travelling from as far away as Chester.
Stall holders pay £10 for a pitch with proceeds going to St Margaret's Church which hosts the market on the first Saturday of the month.
Now, about 20 traders set out their stalls at Brymbo Enterprise Centre on Saturday in an event which, if successful, will be held on the third Saturday of every month.
Wrexham council temporarily cut rents by 25% for market stall holders in the main town centre in a bid to help them during the winter slow-down.