Sacked Hafod-y-Wern, Wrexham, teacher Debbie Ellis agrees settlement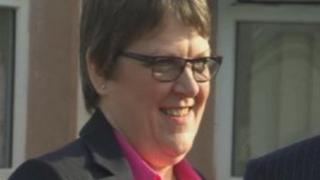 A deputy head sacked after she and a colleague carried a boy of six into school from the playground has reached a settlement with her former employers.
Deborah Ellis told of her relief after her claim for unfair dismissal against Hafod-y-Wern primary in Wrexham.
An employment tribunal was told a confidential settlement had been reached before any evidence was heard.
Her solicitor told the Abergele hearing on Tuesday the settlement was "very acceptable to my client."
Wrexham council said: "The hearing was adjourned pending final agreement of a confidential settlement that was acceptable to both parties.
"Wrexham council intends to respect that confidential agreement."
Tudor Williams, a Wrexham-based employment solicitor, said Mrs Ellis would now have to wait to hear if the General Teaching Council for Wales would take any action against her.
Speaking outside the tribunal office, Mrs Ellis said she was relieved with the outcome.
"It has been very emotional," she said.
"It's had a huge impact on my family and myself. I'm so relieved it's over."
Mrs Ellis said she had no immediate plans to return to teaching.
Mr Williams had previously said his client, who had a 20-year teaching career, had suffered a "grave injustice".
CCTV footage
The case began when she had been in charge of Hafod-y-Wern because the headmaster was away for a day.
Mr Williams said the pupil had been outside and refused to return into the school building.
His mother was phoned but could not get to the school immediately.
Mr Williams had said last year: "My client decided she had to do something and asked a teaching assistant to go with her.
"They lifted him under the armpits and carried him to the classroom.
"It's shown on CCTV footage but the school governing body thought it showed gross misconduct by physical and emotional abuse of the pupil - it doesn't."
Mrs Ellis was dismissed a year ago after a two-day disciplinary hearing.
She maintained she had acted in the interests of the boy's safety after carrying him back into school.
Another teacher was also sacked and two teaching assistants disciplined.