Bogus bag collectors hit Mold's BHF charity shop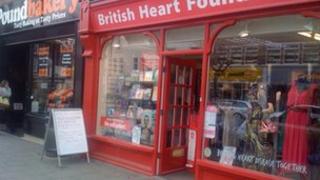 A charity shop in a Flintshire town says it has been hard hit by bogus collectors taking bags of donated clothes from outside people's homes.
A sign has been placed outside Mold's British Heart Foundation (BHF) shop appealing for people to donate items as the problem has left them low on stock.
The UK charity says the issue is a nationwide problem costing it an estimated £3m over the last year.
North Wales Police has been asked to comment.
Other charity shops in Mold such as Oxfam and Capricorn Animal Rescue have not reported any issues.
The sign outside the BHF shop says: "Due to ongoing problem with bogus bag collectors we are low on stock.
'International markets'
And it calls on customers to contact volunteers in the shop if they have items that need collection.
A BHF spokesperson said the theft of collection bags was a problem nationwide costing the charity about £3m over the last financial year due to a 25% drop in household collections and theft from doorstep donations and clothing banks.
The spokesperson said: "Sometimes these thefts are hard to spot, so the figure could actually be higher.
"The rising value of textiles on international markets has been blamed."